Austin Healey Sprite Mk1
"Frog Eye"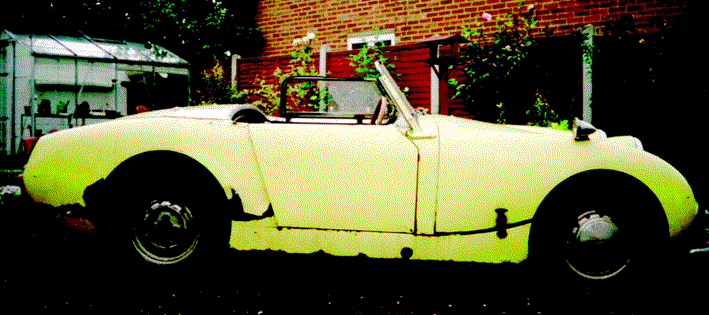 As found, several careful owners and ripe for restoration!
Research showed that this was a very early 1958 Mk 1 Sprite, and in almost every respect, other than the fibreglass front end, totally original. All the engine, gearbox and key numbers matched those on the Heritage certificate, which confirmed other details on the original log book.
Following a short appraisal the car was totally dismantled, all parts labelled, and over a period of some 8 years all the various components were cleaned, painted and rebuilt. As the car was one of only a very small number of this early specification some considerable delays and difficulties were experienced in obtaining the correct original replacement parts.

As expected there were extensive areas of rot which had to be cut out but first the shell was braced with bars welded across door apatures etc. to ensure that it did not distorted when the floor rear wings and sills were removed.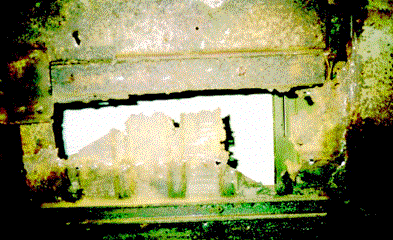 Part of the floor pan under seat. This whole area was removed and a new floor pan inserted into the shell.
Rear spring boxes. This is a critical area of the Sprite. The quarter elliptic springs are inserted into these boxes and bolted down through the reinforced section of the floor.
Engine bay as found. All there but looking rather sad. The condition of the tyres suggests that the car had been run till it finally died.
Eventually most of the components and sub assemblies were ready. Now Pat set about the rebuild of the shell. A few areas of the shell had been started before Pat moved house part way through the project.
The move was to a house with a purpose built garage/workshop so it was into top gear for the rebuild.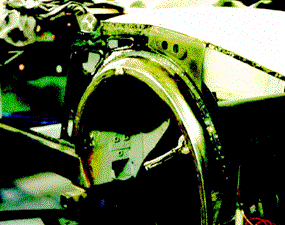 Rear wheel arch repair shows new section of inner wing clamped in position ready for welding.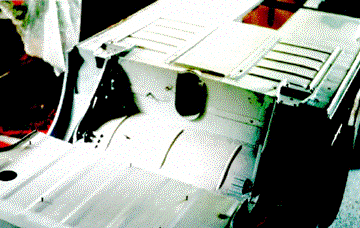 Floor pan after extensive repair. New floor and sill sections assembled with the spring boxes and floor stiffeners in place.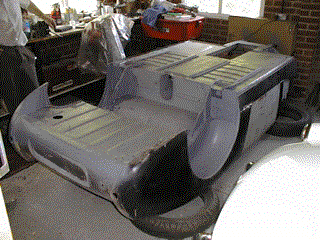 Looking better all the time. The body shell nearing completion with new floor pan, inner and outer rear wings and boot floor ready to be turned over.

Great care was taken to preserve this originality in the rebuild.
When replacement panels were obtained in several cases they were modified back to match early specification.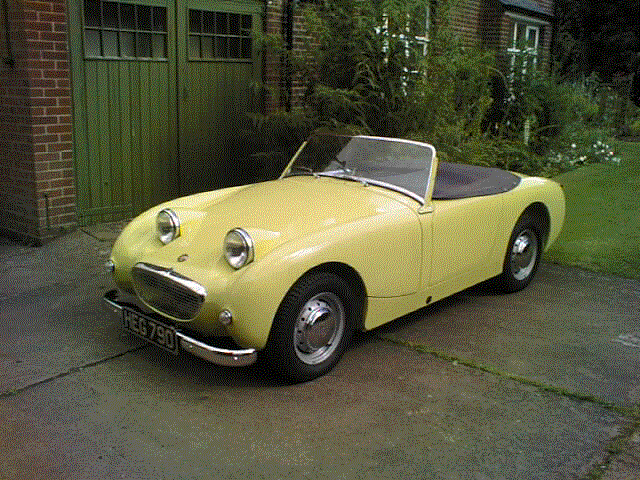 The re-build of this very early Mk1 Sprite now complete, here with just 21 miles on the clock!

The interior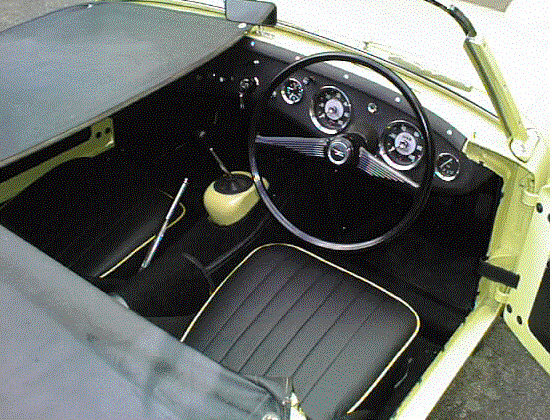 and under the bonnet.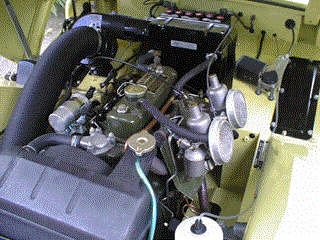 pat.kimber@ntlworld.com